In the first few months, your little one is basically sleeping for 14-16 hours a day, eating and playing in between. There are two main things you'll want to keep baby entertained - a lounger (so you can give your arms a rest) and an activity gym (for tummy time and development). Some parents also invest in a bouncer as well, for another form of entertainment.
LOUNGER
DockATot ($): DockaTot is one of the most popular baby loungers. It comes in modern and fun patterns, and your little one can use it from birth until 8 months.
Cosy Nation Baby Lounger ($52.99): If you like the DockATot, but don't want to splurge on it, check out the Cosy Nation Baby Lounger. It has a similar design and a removeable cover (something other loungers in this price point don't always offer).
Snuggle Me Organic ($156): If you want an organic option, check out the Snuggle Me. It GOTS certified organic, fully machine washable and made in beautiful neutral colors.
---
ACTIVITY GYM
Lovevery Play Gym ($140): Lovevery is one of the most popular play mats because every detail is designed for your little one's development. It comes with a variety of different toys and activities that are tailored to every stage of development in the first year.
Skip Hop Silver Lining Cloud Baby Play Mat and Infant Activity Gym ($85): If you don't want to splurge on the Lovevery, but do want a play gym with a large variety of activities, I'd recommend the Skip Hop. It's reasonably priced, has neutral tones to go with most decor, and comes highly rated.
Ingenuity Cozy Spot Reversible Duvet Activity Gym ($79.99): If you want something with a smaller footprint and wood accents to go with your decor, check out the Ingenuity Cozy Spot. It has a soft and reversible mat that also folds up easily to store when it's not in use.
---

BOUNCER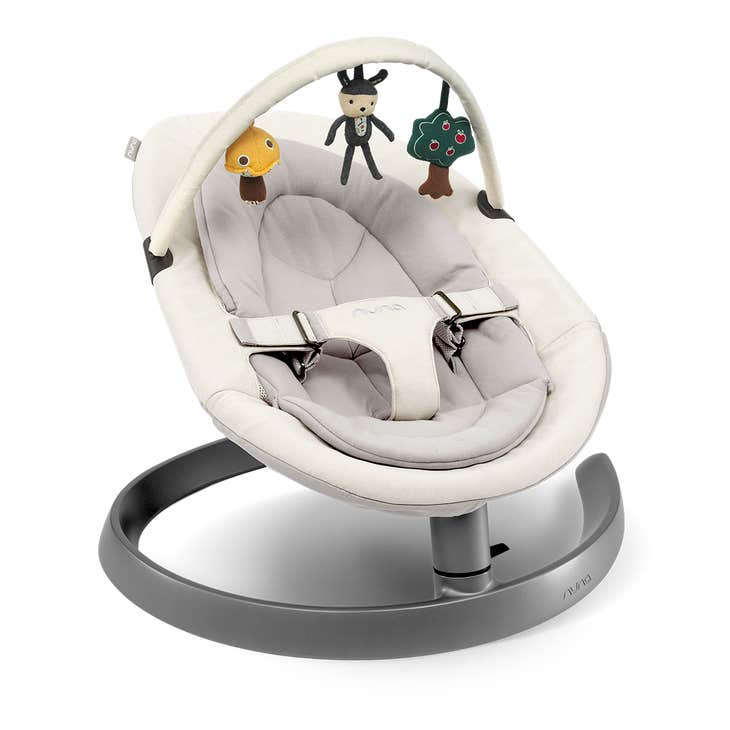 Nuna Leaf ($199): If you want a bouncer with a rocking motion that you can use well into the toddler years, I'd recommend the Nuna Leaf ($199). This bouncer is made from GOTS certified organic cotton. This bouncer has a 130lb weight limit. The downside is that it only has one recline position, so it might be too laid back to be comfortable in a sitting position. However, if this is an important feature to you, you can opt for the Nuna Leaf Grow ($299) which does have three recline positions.
Baby Bjorn Bouncer ($199): If you want a classic bouncer with up and down motion and is more portable, I'd recommend the Baby Bjorn Bouncer. It's OEKO-TEX Standard 100 certified, meaning it has been tested for harmful chemicals. The seat is ergonomically designed and you can adjust the angle so that they can lay down to rest or sit more upright to play. It can also fold flat so it makes for a great portable solution to travel with. The one downside in comparison to the Nuna Leaf is that it's max weight limit for bouncing is 20lbs and for the seat without bounce is 29lbs.