Since this category has the biggest ticket items, I've given you a few options for each. I don't want to overwhelm you with details, so I'll keep it brief. Just know, you can always text me with questions if you want more details.
CAR SEATS
You indicated that you want a 3-in-1 car seat. FYI - (in case you didn't know) these car seats can't be attached to your stroller. If you are looking for a car seat that you can attach to your stroller or if you want to take the car seat in/out of the car with your baby still strapped in, then you'll want to buy an Infant Car Seat. Don't be fooled by the name, Infant Car Seats can be used until ~12-18 months, depending on the height and weight of your baby. Some parents with two cars like yourself, will buy an infant car seat for one car and a convertible or 3-in-1 for the other.
Since you're willing to splurge on the 3-in-1 car seat, I've recommended a premium option (Nuna Exec) and another more affordable, but still high quality option (Maxi-Cosi).
Nuna Exec ($649.95): This is definitely one of the most expensive car seats on the market. It has extra safety features (like an adjustable anti-rebound panel) and all the materials are non-toxic. However, for the same price, you could also buy a quality infant car seat, convertible car seat, and booster. I would only recommend this option if you're set on having the same car seat for your little one's entire "life".
Maxi-Cosi Pria 3-in-1 Convertible Car Seat ($289.99): Highly rated, machine washable, and sleek looking car seat. Bonus: it's also offered in a peach/orange color!
---
STROLLERS
It looks like you're interested in full-size, jogging, and convertible strollers. I understood this as you're open to all of them but not sure which one you want yet. After a little stalking #guilty, I see you run a lot. One thing to note about jogging strollers designed for serious running is that they tend to have larger wheels, which can be a pain to lug around when you're running errands. If you want the best of both worlds, you could either:
Buy a hybrid jogging stroller that has most features for running, but can also be used for everyday
Buy a serious jogging stroller and a separate lightweight, full-sized, or convertible stroller that's more convenient for everyday.
I've pulled together four options in the mid-priced range, one for each type of stroller you're interested in. I also threw in a lightweight option since lightweight strollers are more affordable. They've also improved a lot over the years and many offer a lot of the same benefits as full-sized strollers.
Strollers are one of the harder items to shop for because everyone's lifestyle and how/when they plan to use a stroller different. Think of these as a starting point to get you familiar with what's out there. I'm happy to give you more options once you've narrowed down what you want.
CYBEX Eezy S + 2 Stroller, Lightweight Travel Stroller ($299.95): The Cybex Eezy S+2 is a lightweight stroller, that's pretty solid. Cybex is a German brand that's gaining more popularity in the US. It's seat can be reclined fully flat, meaning you can use it with your newborn from birth and don't need to buy an extra bassinet. It also has suspension on all wheels for a smoother ride and comes in really nice rich colors (not pictured in this link, but it's also offered in a beautiful beige/black combo). Downsides are that if you want to use it as a travel system, it's only compatible with a Cybex Infant Car Seat and the storage basket is a little small.
Baby Jogger City Mini GT2 ($359.99): This is a highly rated full-sized stroller with lots of features - like the adjustable handlebar, oversized canopy, and extra large storage. Parents love it for the slim design and easy one-hand fold. The single front wheel makes it easier to maneuver around and you can also use it with your little one well into their toddler years, with a 65 lb max weight (vs other strollers are around ~50 pounds).
Joovy Zoom 360 Ultralight Jogging Stroller ($296.99): This is a lighter weight quality jogging stroller that has the basic jogging features you need (like a hand strap, front wheel swivel lock, large canopy). It's compact enough so that you can use it everyday and you could also get adapters to attach an Infant Car Seat. Some of your premium jogging strollers (like Thule Glide 2 or Baby Jogger Summit X3) will run you ~$400+ and will come with additional things like larger storage baskets, hand brakes, or premium suspension technology.
Evenflo Pivot Xpand Modular Travel System with SafeMax Infant Car Seat ($323.49): This convertible stroller is a great value for the price. It has an adjustable handle bar, large storage, large canopy, and a wide range of configurations. Also, remember when I said you need an Infant Car Seat to use with a stroller? Well this stroller comes with an infant car seat that has a base with an anti-rebound bar for extra safety! The downsides? It doesn't offer the premium materials, all-wheel suspension or tires of the premium strollers like Uppababy or Nuna. But those could run you easily over $700 without a car seat.
---
CARRIERS
You mentioned that you're not sure of what type of carrier you want yet. Here's a quick guide to share some more information about the different types and what to consider. Since you're unsure, I'm recommending three carriers to look at first (two wrap and one soft-structured). Since you're willing to splurge, some parents get a wrap for the early months to have a more natural skin-to-skin babywearing fit and then transition to a soft-structured carrier when your little one is bigger. Carriers can also be a big style statement since you're wearing them almost like a fashion accessory. If the pattern is really important to you, I can definitely share a few more options that really make a statement. LMK!
Solly Baby Wrap ($65): The Solly Baby Wrap is your classic wrap (one long piece of fabric). The biggest difference across all the brands offering wraps is the material they use and their colors/patterns. Some are thicker fabrics with less stretch, others have a lot of stretch for a more natural snug feel. I like to recommend the Solly wrap because it's made from a silky soft stretchy fabric that's breathable. They're also offered in beautiful neutral colors and stripes that will go with any outfit. Since your little one is due in October and you're in the midwest, you might want to get something thicker for the colder months. But at the same time, if you're inside with the heat running or if you tend to run a little hot, you'll probably want the more breathable fabric.
Baby K'tan Original Baby Wrap Carrier ($49.95): I like to recommend the Baby K'Tan wrap because it's ready to wear. Tying a baby wrap can be intimidating and even frustrating the first few times. The Baby K'Tan is great when you want the snug-fit benefits of a wrap, but don't want to tie the wrap. The biggest downside to ready-to-wear wraps is that they're sized (vs. one size fits all). However, it looks like you and your husband are similar in height so you might be able to both use the same one!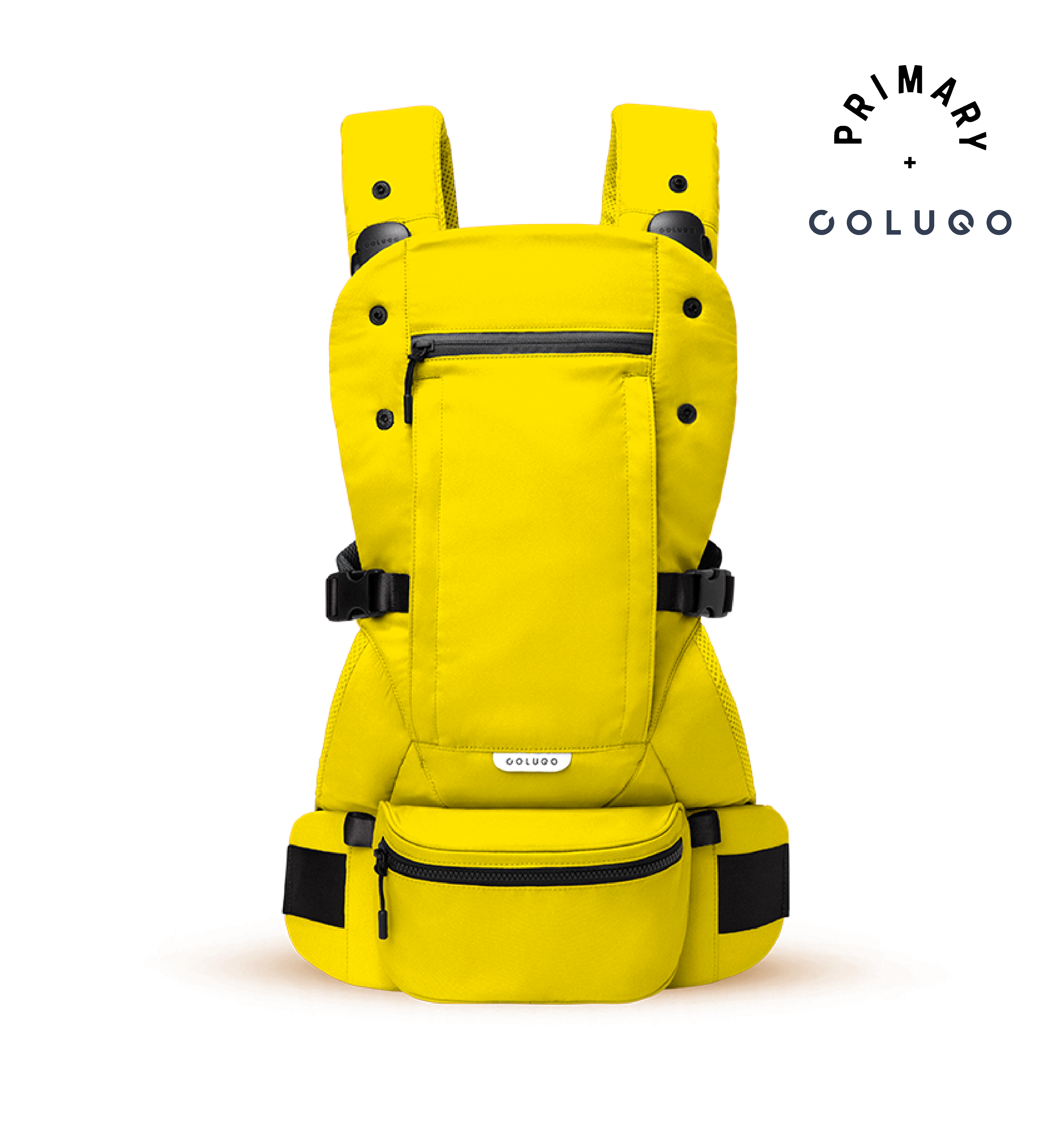 Colugo Carrier ($135): For a soft-structred carrier, the Colugo Carrier is one of our favorites. Colugo is a new direct-to-consumer brand that is parent-owned and designed. With soft-structured carriers, the most important things to look for are carrying positions and fit. The Colugo Carrier is great because it offers front inward-facing, front outward-facing, and back carry positions. It's also super lightweight and has really fun colors and patterns. Our favorite feature is the magnetic clasps - trust, it's a huge lifesaver when you're putting in your little one by yourself. Other popular carriers that offer similar features are the Baby Bjorn One and Ergobaby Omni-360, but they both run closer to $200. There's also other soft-structured carriers that are more affordable or have different patterns, but they don't offer all the carrying positions.
---
DIAPER BAGS
There are so many options with diaper bags. I've put together a wide range for you to look at (across price and type) that meet your gear style preferences (polka dot, stripes, color). Average price of quality diaper bags are ~$75-100, whereas more designer/premium options can get you closer to $200. The world is your oyster here, so let me know if you're looking for something specific (maybe a polka dot tote, or striped backpack) and I'm happy to find exactly what you're looking for.
Another option is to take your favorite tote and add a diaper bag insert to keep things organized. If you want to go this route, let me know what size your tote is and I can give you some suggestions for organizing inserts!
QIMIAOBABY Diaper Bag Backpack ($29.99): Backpack diaper bags are popular because they keep your hands totally free. I chose this one because of the polka dot design and great price. It also comes with a travel changing pad, bottle holder, and stroller straps. I do want to call out, that even though it has great reviews overall, some of the negative reviews state that they lack high quality zippers.
Skip Hop Grand Central Diaper Bag ($89.99): This is your classic diaper bag with lots of storage and thoughtful compartments. It also comes with a travel changing pad. Skip Hop is a well known baby product brand with high quality travel gear.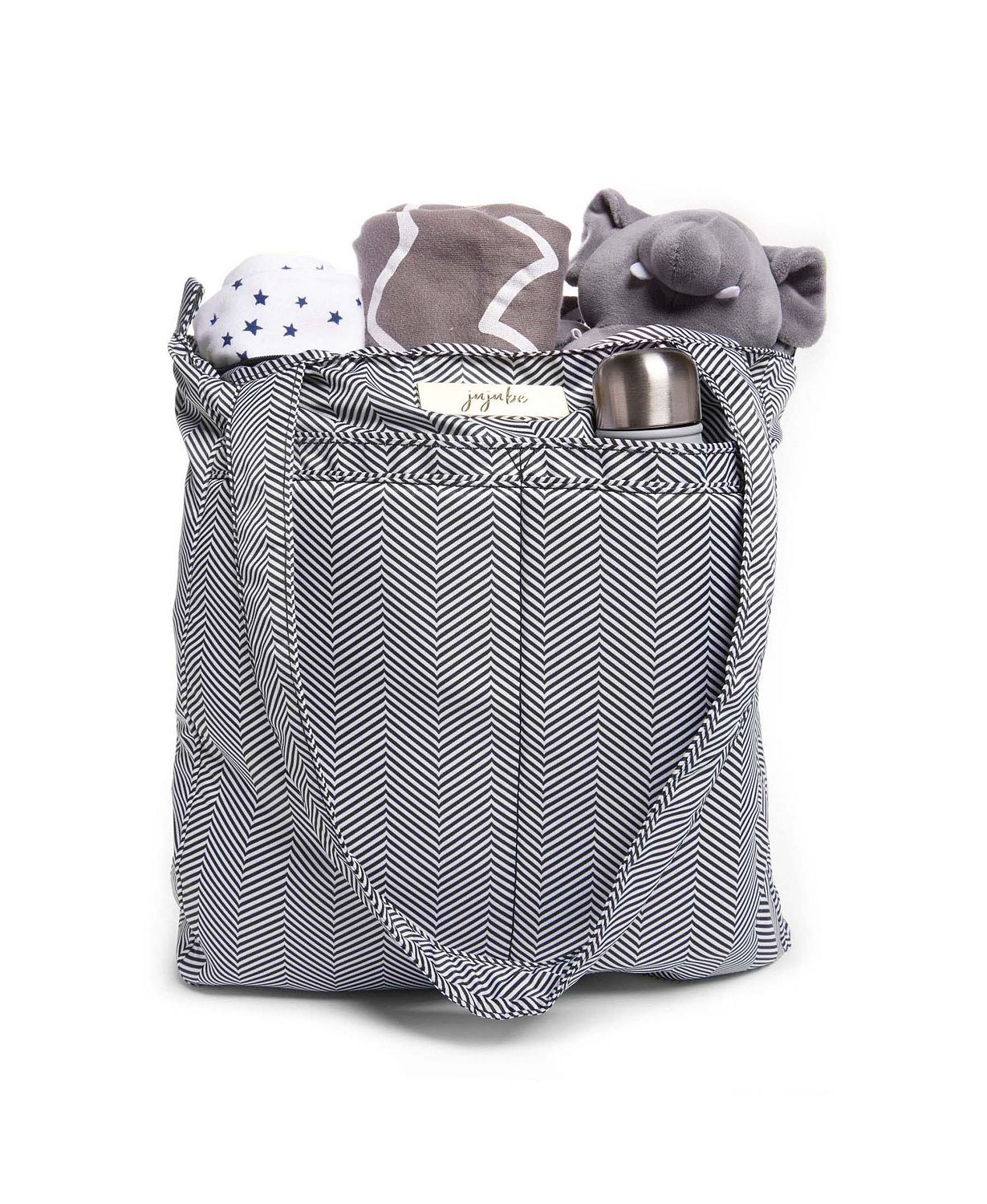 Ju-Ju-Be Be Light Tote Diaper Bag ($50): I added this simple tote in case you're looking for something simpler and less bulky. It has a cool geometric pattern that you might like.
Freshly Picked - Convertible Classic Diaper Bag Backpack ($175): I added the Freshly Picked Convertible Diaper Bag for an option that doesn't look like a diaper bag. It can be worn as a backpack, a cross body or purse. It also comes in a nice Butterscotch color that could pair nicely with the oranges and yellows you wanted.
BabyMel™ Georgi Eco Convertible Backpack Diaper Bag ($89.99): Another convertible diaper bag. I know you didn't list animal print, but this does fall in the orange color family and is super cute IMO. It's also offered in a striped pattern as well! Comes with a travel changing pad.
Alright, that's it for Part I. I'll be sending you more recommendations in the next few days. Let me know if you have questions in the meantime.
XOXO,
Betty